CLASSIC HEADQUARTERS PRODUCTS - All products listed in this catalog are manufactured with our own proprietary tooling to ensure accurate, high quality products. All Classic Headquarters products are warranted for at least one year. Each is protectively and attractively packaged, most in color logo boxes or bagged with color header cards. Each is part number and description labeled with custom and logo labeling available. Classic Headquarters address or phone number are not included on any packaging. Authorized Dealers enjoy next day shipment of quality products, competitive pricing with volume discounts.

A select line of high quality, accurate reproduction restoration and repair products for classic GM cars and trucks. Packaged in a color logo box or high print quality header card of distinctive design and colors. Pro Shop Series products display the GM Restoration Parts emblem and carry at least a full 1 year manufacturer warranty from your customer's date of purchase.

Numerous Classic Headquarters manufactured restoration products are Officially Licensed GM Restoration Parts. The GM Restoration Parts logo is printed on all licensed product packaging.
The GM Restoration Parts emblem is a registered trademark of General Motors and used under license to CHQ Reproductions, Inc.
Exclusive Distributor for: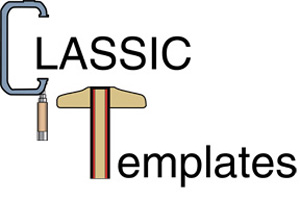 Classic Templates - Offering digitally generated full size GM Classic body, emblem, trim, and conversion mounting & placement templates and restoration appliques for dash instrument carriers.

Classic Suspension - A select Officially Licensed GM Restoration Parts line of high-quality front end and suspension rebuild products from QS-9000 and ISO/TS-16944 certified OE manufacturers. Offering GM classic restorers an original appearance and exact fit replacement of the originals, all produced to modern safety and technical specifications.
410 Athena Drive
Athens, Georgia 30601
800-441-3866 800-220-8340 Fax
sales@classicHQ.com www.classicHQ.com